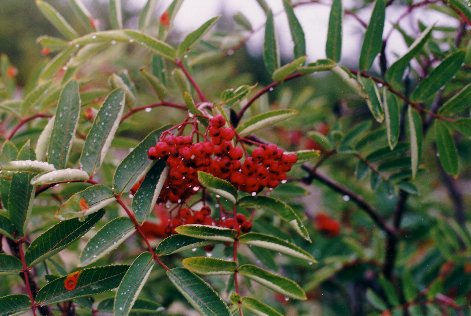 Mountain Ash Berries, Les Escoumin, Quebec (Ollin, 2002)
Consultations
Custom Blends and Formulas

CONSULTATIONS / APOTHECARY
During Covid. all appointments are remote

I have been serving clients since 1985 in my capacity as an herbalist, aromatherapist and homeopath.
I am available for consultation for individuals wanting to implement natural and holistic remedies and healing modalities into their health
regime or healing process. My consultations are entirely educational and are not intended to replace medical advice. I pull from a broad field
of knowledge and 45 years experience in holistic healing using herbs, essential oils, TCM, Eastern healing techniques, diet, and homeopathy.
My hourly rate is 75.00 and I do have a sliding scale for those who are economically challenged, as well, I offer free clinic hours on a weekly basis for those that cannot afford to pay.

Please note, my consultations are educational only and not intended to replace that of your primary care physician, doctor or ND. I ask all of my clients to sign a waiver stating that they understand this and that they are encouraged to seek medical advice or consult with their physicain regarding all educational materials provided in our sessions.
Please contact me for more information.
Jayne Ollin
MS/MALS/DIP HOMEOPATHY
MASTER HERBALIST/AROMATHERAPIST
802-223-5563
The following is a list of the herbs we have introduced to our property in East Montpelier.
Many of the herbs on this list are truly wild and come and go as they please, taking a year off here and there. You may or may not
get a chance to meet all of them depending on the season or the year.
Agrimony
Alum Root
Applemint
Arnica
Barberry
Beebalm or Oswega Tea
Beth Root
Birch
Calafornia PoppyBlackBerry
Black Cohosh
Blood Root
Blue Flag
Blue Vervain
Borage
Burdock
Calendula
Catmint
Caraway
Celendine
Chaga
Chamomile

Chickweed
Chicory
Chives
Clary Sage
Clematis
CleaversColumbine
Coltsfoot
Comfrey
Coriander
Corn Silk
Couch Grass

Dandelion
Day Lily
Dill
Echinacea (pururea)
Elderberry
Elecampane
Evening Primrose
European Pennyroyal

FemaleFern
Feverfew
Fern
Five Fingered Grass
Forget-me-not
Forsythea
Foxglove
Fumatory
Greater Celandine
Gill-over-the-Ground or Ground Ivy
Horsetail
Horehound
Honeysuckle
Hydrangea
Hyssop
Jacobs Ladder
Jewelweed
Lady's Mantle
Lambs Quarters
Lavender
Lemon Balm
Lily of the Valley
Lobelia
Lovage
Lungwort
Marshmallow, wild and european
Marjoram, wild and cultivated
Meadowsweet, medicinal and non-medicinal
Milk Thistle Milkweed
Motherwort
Mullein
Mustard, edible, wild
Nasturtium
Nettles
Oregano, greek and wild
Peony
Parsley
Plantain
Poppy, wild
Purslane, edible, wild
Pyrethrum
Raspberry
Red and White Clover
Rose, Wild Apothecary and Rugosa
Rue
Russian Sage
Sage
Saint Johswort
Savory
Saxifrage
Sheep sorrel, wild, edible
Shepherds Purse

Spearmint
Sweet Cicely
Sweet Blue and White Violet
Tansy
Tormentile
Thyme, wild
Valerian
Vervain, Wild blue
Viola Tricolor
Wild ginger
Wild pansy
Wild Lettuce
Wormwood
Yarrow
Yellow Dock
Yellow Flag
Zea Mays
St. Johnswort Oil Testimonials| Skin Care Testimonials| Home | Philosophy | Products | HEALTH LINKS |
Custom Blends and Consultations
Orders | Bulk Prices | Health & Garden | St. Johnswort Oil Testimonials